I just got a new Pixel XL phone and installed Soundabout. I've been using it successfully on my Nexus 6 for quite a while, but I can't get it to work at all on the Pixel. When I start it, it just displays an empty screen, like this.
I've tried clearing the cache, clearing data, uninstalling, rebooting, re-installing, and so on, but I always get the same result.
Some fixes have been uploaded to Google Play. It may have been the new version of Android that wasn't in the list yet.

Both SoundAbout and SoundAbout Pro have been updated.
That fixed the blank screen problem, but pressing the Soundabout voice search icon on my Pixel XL running android 7.1 produces this screen.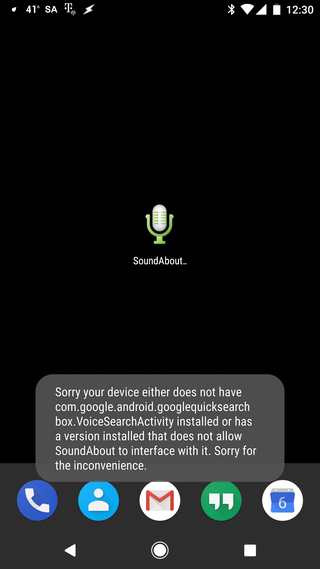 If you go into SoundAbout and Press "Voice Search behavior", then "Choose Voice Search", do you get a list of apps, like Google App? I choose Google App and "VoiceSearchActivity".


There's no VoiceSearchActivity under Google App. Here's what there is. Voice Command Activity doesn't work. After selecting it, when I press the Soundabout voice search produces a toast "Opening Voice Search...Please Wait" followed a little later by "Saving audio to
my email address
". Other developers have told me that Android 7.1 Google Assistant just isn't available to them like voice search was.  I guess that's true.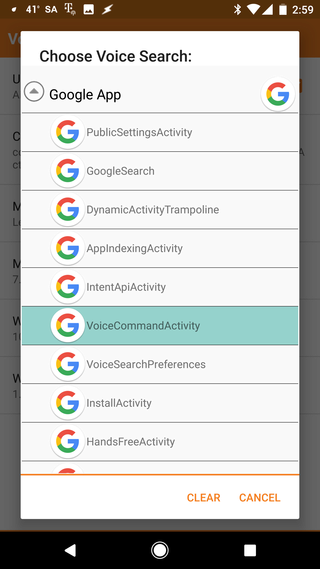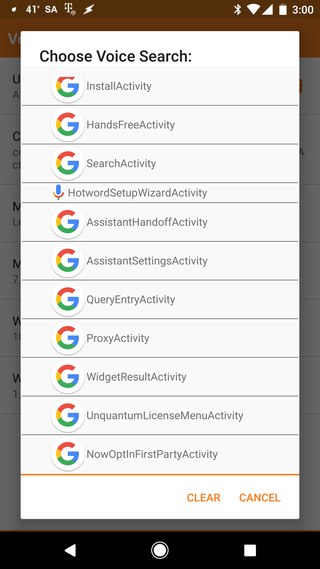 That sucks. They took out 3rd Party TTS from Google Maps and now this.

What about HansFreeActivity or AssistantHandoffActivity?

Nope. Sorry. Looks like it's broken.
Wow, what is going on in Android 7.1?

---
Permissions in this forum:
You
cannot
reply to topics in this forum